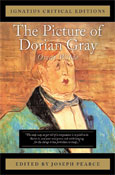 Oscar Wilde
291 pp, $7.95. Order Now!
"The only way to get rid of a temptation is to yield to it. Resist it, and your soul grows sick with longing for the things it has forbidden itself..."
In true Faustian tradition The Picture of Dorian Gray tells the tale of a young man who sells his soul to the devil in return for youthful immortality, only to discover that the "devil's bargain" is no bargain at all. "What does it profit a man if he gain the whole world and lose his own soul?"

40 pp, $3.95
ICE Study Guides are constructed to aid the reader of ICE classics to achieve a level of critical and literary appreciation befitting the works themselves.
Ideally suited for students themselves and as a guide for teachers, the ICE Study Guides serve as a complement to the treasures of critical appreciation already included in ICE titles.
When Dorian Gray is asked this question he knows the answer. He has learned his lesson the hard way and has added the destroyed lives of others into the bargain. The moral is inescapable, making The Picture of Dorian Gray more than merely a classic of Victorian literature. It is a classic of Christian literature also. This edition of Wilde's novel is edited by Joseph Pearce, author of The Unmasking of Oscar Wilde, and contains critical essays that look at the work from a tradition-oriented perspective.
A look at the essays
Now and again a critical take from yesteryear has an importance or such sparkling clarity of observation that we can't help but include it in the Ignatius Critical Edition of the work. For Wilde's novel, we've included classic criticism from the great Walter Pater.
A wide-ranging survey of the strands of literature that Wilde has hold of in this novel is given by Richard Harp. The overriding question of conscience, meanwhile, is addressed by Dominic Manganiello, who points particularly to Cardinal Newman as a source for the picture that emerges. [Read excerpt.]
Brian Vickers takes on the tale of conscience as one of influence: who influenced Dorian, who he influenced, and how it all leads to the tragic end.
Joseph Pearce situates the reader with the introductory essay.
Books by Author
by last name, except for Wm. Shakespeare
Bulk Discounts Available
| Order Amount * | Discount |
| --- | --- |
| 10–49 | 20% |
| 50–99 | 35% |
| 100–249 | 49% |
| 250–749 | 51% |
| 750+ | 52% |
The Ignatius Critical Editions are available in bulk, perfect for schools, colleges, or homeschooling groups!