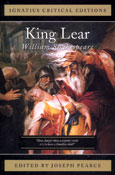 William Shakespeare
340 pp, $7.95. Order Now!
"How sharper than a serpent's tooth it is to have a thankless child!"
One of the most popular of Shakespeare's plays, King Lear is also one of the most thought-provoking. The play turns on the practical ramifications of the words of Christ that we should render unto Caesar that which is Caesar's, and unto God that which is God's. When confronted with the demand that she should render unto Caesar that which is God's, Cordelia chooses to "love and be silent". As the play unfolds each of the principal characters learns wisdom through suffering.

48 pp, $3.95
ICE Study Guides are constructed to aid the reader of ICE classics to achieve a level of critical and literary appreciation befitting the works themselves.
Ideally suited for students themselves and as a guide for teachers, the ICE Study Guides serve as a complement to the treasures of critical appreciation already included in ICE titles.
This edition includes new critical essays from some of the leading lights in contemporary literary scholarship as well as classic commentary from John Keats, Samuel Johnson, and A. C. Bradley. A great resource.
A look at the new essays
Plays are sometimes hard to 'see' if you're just reading, and live productions aren't always available, so James Bemis gives readers a guide to the film adaptations of King Lear, with attention to fidelity to the text and quality of performance. His guide can help you or your students connect with this great tragedy.
In "Nature and Convention in King Lear", Paul Cantor inspects Lear as a king destined to become, once again, a mere man. Robert Carballo investigates chaos and order in the work, on the grounds of organic wholeness, and Scott Crider draws from an in-class dispute over Lear an appreciation of the play, and the dialogue it takes to understand the play.
Joseph Pearce contributes an essay on Lear's dramatic and historical context, suggesting we can easily fail in "Seeing the Comedy of the Tragedy". Jack Trotter rounds it all out by making the case for the interior necessity of King Lear being a redemptive, not a nihilistic, work.
R. V. Young situates the reader with the introductory essay. [Read excerpt.]
Books by Author
by last name, except for Wm. Shakespeare
Bulk Discounts Available
| Order Amount * | Discount |
| --- | --- |
| 10–49 | 20% |
| 50–99 | 35% |
| 100–249 | 49% |
| 250–749 | 51% |
| 750+ | 52% |
The Ignatius Critical Editions are available in bulk, perfect for schools, colleges, or homeschooling groups!
Meet the Minds behind the King Lear Edition
Editor & Critical Essayist
Critical Essayists