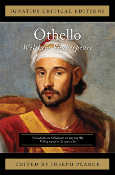 William Shakespeare
312 pp, $7.95. Order Now!
"I kissed thee ere I killed thee, no way but this,
Killing myself, to die upon a kiss."
One of the four great tragedies—alongside Hamlet, King Lear, and Macbeth–Othello is among the darkest of Shakespeare's plays, illumining the shadows of the gloomiest recesses of the human psyche and serving as a damning indictment of the world in which it was written. A cautionary tale of the destructiveness of sin and the ruinous consequences of bad philosophy, Othello seems to express Shakespeare's rage at the cynicism and brutality of the age in which he lived. From the Machiavellian menace of Iago to the blind and prideful jealousy of Othello, this classic of world literature shows us the shadow falling over a society that has turned its back on the light and life of virtue.
A look at the essays
Joseph Pearce situates the reader with the introductory essay.
Books by Author
by last name, except for Wm. Shakespeare
Bulk Discounts Available
| Order Amount * | Discount |
| --- | --- |
| 10–49 | 20% |
| 50–99 | 35% |
| 100–249 | 49% |
| 250–749 | 51% |
| 750+ | 52% |
The Ignatius Critical Editions are available in bulk, perfect for schools, colleges, or homeschooling groups!
Meet the Minds behind the Othello Edition
Editor
Critical Essayists