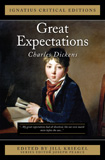 Charles Dickens
680 pp, $11.95. Order Now!
"...My great expectations had all dissolved, like our own marsh mists before the sun..."
Pope John Paul I described Dickens' books as "filled with love for the poor and a sense of social regeneration . . . warm with imagination and humanity". Such true charity permeates Dickens' novels and ultimately drives the characters either to choose regeneration or risk disintegration. In Great Expectations, Pip — symbolic of the pilgrim convert — gains both improved fortunes and a growth in wisdom, but as he acquires the latter, he must relinquish the former — ending with a wealth of profound goodness, not of worldly goods.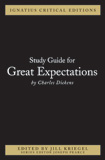 43 pp, $3.95
ICE Study Guides are constructed to aid the reader of ICE classics to achieve a level of critical and literary appreciation befitting the works themselves.
Ideally suited for students themselves and as a guide for teachers, the ICE Study Guides serve as a complement to the treasures of critical appreciation already included in ICE titles.
That the Dickensian message was a Christian one is unmistakable. Reminiscent of an Augustinian model, one of reflection, conversion, and moral improvement, Pip undergoes an internal change that manifests itself in his profound contrition for his earlier deeds and his equally profound resolution to make amends. As we travel with Pip, we find that Dickens leads us to an acceptance of worldly limitations and an anticipation of final salvation.
A look at the essays
Jill Kriegel situates the reader with the introductory essay.
Books by Author
by last name, except for Wm. Shakespeare
Bulk Discounts Available
| Order Amount * | Discount |
| --- | --- |
| 10–49 | 20% |
| 50–99 | 35% |
| 100–249 | 49% |
| 250–749 | 51% |
| 750+ | 52% |
The Ignatius Critical Editions are available in bulk, perfect for schools, colleges, or homeschooling groups!