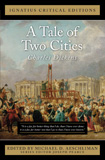 Charles Dickens
514 pp, $11.95. Order Now!
"It is a far, far better thing that I do, than I have ever done; it is a far, far better rest that I go to than I have ever known."
In this exciting novel set during the French Revolution, Charles Dickens expresses sympathy for the downtrodden poor and their outrage at the self-indulgent aristocracy. But Dickens is no friend of the vengeful mob that storms the Bastille and cheers the guillotine. As with all of his stories, his passion is for the unforgettable and unrepeatable individuals he creates.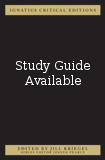 48 pp, $3.95
ICE Study Guides are constructed to aid the reader of ICE classics to achieve a level of critical and literary appreciation befitting the works themselves.
Ideally suited for students themselves and as a guide for teachers, the ICE Study Guides serve as a complement to the treasures of critical appreciation already included in ICE titles.
The sorrows of the suffering masses, their demands for justice, and the indiscriminate fury they unleash take flesh in Madame Defarge, while the self-sacrifice that is the truest means of atonement and rebirth manifests in the unlikely hero Sydney Carton. In A Tale of Two Cities, humanity does not show its best side in the mean streets of Paris or even London, but in the intimate circle of loyal friends that gathers around the honorable Doctor Manette and his lovely daughter, Lucie.
A look at the essays
Essay titles forthcoming.
Michael D. Aeschliman situates the reader with the introductory essay.
Books by Author
by last name, except for Wm. Shakespeare
Bulk Discounts Available
| Order Amount * | Discount |
| --- | --- |
| 10–49 | 20% |
| 50–99 | 35% |
| 100–249 | 49% |
| 250–749 | 51% |
| 750+ | 52% |
The Ignatius Critical Editions are available in bulk, perfect for schools, colleges, or homeschooling groups!
Meet the Minds behind the A Tale of Two Cities Edition
Editor
Michael D. Aeschliman
Michael D. Aeschliman is Professor of Education at Boston University, Professor of English at the University of Italian Switzerland, and author of The Restitution of Man: C. S. Lewis and the Case against Scientism (1983, 1998). A widely published scholar and literary critic, he edited in 1987 a new edition of Malcolm Muggeridge's 1934 satirical-documentary novel, Winter in Moscow.
Buy A Tale of Two Cities Online!