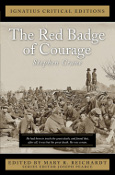 Stephen Crane
262 pp, $7.95. Order Now!
"He had been to touch the great death, and found that, after all, it was but the great death. He was a man."
Stephen Crane described his novel of the American Civil War as a "psychological portrait of fear." Although he never experienced the horror of battle himself, Crane based his realistic narrative largely on stories told by Civil War veterans. While those accounts tended to focus on the external action of warfare, the young newspaper reporter aspired to illustrate the internal experience of the soldier.
What does a man think and feel when he must kill or be killed? When in the chaos of battle will fear paralyze him or, worse, cause him to turn coward and run? In a sense, modern American fiction begins with Crane's masterful, impressionistic depiction of Private Henry Fleming under fire.
A look at the essays
Essay titles forthcoming.
Mary Reichardt situates the reader with the introductory essay.
Books by Author
by last name, except for Wm. Shakespeare
Bulk Discounts Available
| Order Amount * | Discount |
| --- | --- |
| 10–49 | 20% |
| 50–99 | 35% |
| 100–249 | 49% |
| 250–749 | 51% |
| 750+ | 52% |
The Ignatius Critical Editions are available in bulk, perfect for schools, colleges, or homeschooling groups!
Meet the Minds behind the The Red Badge of Courage Edition
Editor

Mary Reichardt
Mary Reichardt is Professor of Catholic Studies at the University of St. Thomas, Saint Paul, Minnesota. She received a PhD in literature from the University of Wisconsin, Madison. She has published eight books, including Catholic Women Writers (Greenwood, 2001), Exploring Catholic Literature (Sheed and Ward / Rowman and Littlefield, 2003), the two-volume Encyclopedia of Catholic Literature (Greenwood, 2004), and Between Human and Divine: The Catholic Vision in Contemporary Literature (Catholic University of America Press, 2010).
Critical Essayists
Buy The Red Badge of Courage Online!