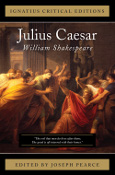 William Shakespeare
214 pp, $7.95. Order Now!
"The evil that men do lives after them;
The good is oft interred with their bones."
Though a staple in high school English classes, Julius Caesar is not a simple play. Seemingly irreconcilable forces are at work: fate and free will, the changeableness and stubbornness of ambitious men, the demands of public service and the desire for private gain.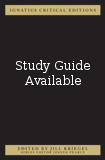 46 pp, $3.95
ICE Study Guides are constructed to aid the reader of ICE classics to achieve a level of critical and literary appreciation befitting the works themselves.
Ideally suited for students themselves and as a guide for teachers, the ICE Study Guides serve as a complement to the treasures of critical appreciation already included in ICE titles.
Drawn from history as recorded by Plutarch, the major characters — Caesar, Brutus, Cassius, and Mark Antony — are complex, as are the twists and turns of their fortunes. What kind of man rises to power? What price does he pay when he becomes a politician? These questions raised by Shakespeare are relevant in every age, whether ancient Rome, Elizabethan England, or even in our own day.
A look at the essays
Essay titles forthcoming.
Joseph Pearce situates the reader with the introductory essay.
Books by Author
by last name, except for Wm. Shakespeare
Bulk Discounts Available
| Order Amount * | Discount |
| --- | --- |
| 10–49 | 20% |
| 50–99 | 35% |
| 100–249 | 49% |
| 250–749 | 51% |
| 750+ | 52% |
The Ignatius Critical Editions are available in bulk, perfect for schools, colleges, or homeschooling groups!
Meet the Minds behind the Julius Caesar Edition
Editor

Joseph Pearce
Joseph Pearce is writer in residence at Aquinas College in Nashville, Tennessee, and director of the Aquinas Center for Faith and Culture. He is the editor of the St. Austin Review and the Ignatius Critical Editions series editor. He is the author of three books on Shakespeare, published by Ignatius Press: The Quest for Shakespeare: The Bard of Avon and the Church of Rome (2008), Through Shakespeare's Eyes: Seeing the Catholic Presence in the Plays (2010), and Shakespeare on Love: Seeing the Catholic Presence in Romeo and Juliet (2013). He has also published books on a number of modern literary figures, including Oscar Wilde, G. K. Chesterton, Hilaire Belloc, Roy Campbell, J. R. R. Tolkien, C. S. Lewis, and Alexander Solzhenitsyn.