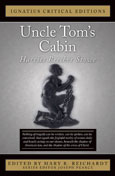 Harriet Beecher Stowe
667 pp, $11.95. Order Now!
"Nothing of tragedy can be written, can be spoken, can be conceived, that equals the frightful reality of scenes daily and hourly acting on our shores, beneath the shadow of American law, and the shadow of the cross of Christ. "
Harriet Beecher Stowe was appalled by slavery, and she took one of the few options open to nineteenth century women who wanted to affect public opinion: she wrote a novel, a huge, enthralling narrative that claimed the heart, soul, and politics of millions of her contemporaries. Uncle Tom's Cabin paints pictures of three plantations, each worse than the other, where even the best plantation leaves a slave at the mercy of fate or debt. Her questions remain penetrating even today: "Can man ever be trusted with wholly irresponsible power?"

53 pp, $3.95
ICE Study Guides are constructed to aid the reader of ICE classics to achieve a level of critical and literary appreciation befitting the works themselves.
Ideally suited for students themselves and as a guide for teachers, the ICE Study Guides serve as a complement to the treasures of critical appreciation already included in ICE titles.
First published more than 150 years ago, this monumental work is today being reexamined by critics, scholars, and students. Though "Uncle Tom" has become a synonym for a fawning black yes-man, Stowe's Tom is actually American literature's first black hero, a man who suffers for refusing to obey his oppressors. Uncle Tom's Cabin is a living, relevant story, passionate in its vivid depiction of the cruelest forms of injustice and inhumanity-and the courage it takes to fight against them.
A look at the essays
Uncle Tom's Cabin has elicited strong reactions from the time it was published, and so we've included a representative collection of classic criticism, from the effusive praise of George Sand to a skeptical and worldly-wise London Times review and on to an affronted and defensive response from Southerner George F. Holmes.
As for new contemporary criticism, Dedra McDonald Birzer investigates how slavery disrupts the family in Uncle Tom's Cabin. Mark Canada sees the work as a "broader, deeper exposé" than newspaper reports could give in his "Harriet Beecher Stowe's Investigative Fiction". [Read excerpt.] Finally, John J. Han catalogues the many plot points and character traits that lead us to read "Uncle Tom as a Christ Figure".
Mary R. Reichardt situates the reader with the introductory essay.
Books by Author
by last name, except for Wm. Shakespeare
Meet the Minds behind the Uncle Tom's Cabin Edition
Editor
Critical Essayists