Mark Twain
396 pp, $9.95. Order Now!
"I studied a minute, sort of holding my breath, and then says to myself, 'All right, then, I'll go to hell.'"
Mark Twain's Adventures of Huckleberry Finn is, according to many critics and fond readers, the great American novel. Full of vibrant American characters, intriguing regional dialects and folkways, and down-home good humor, it also hits Americans in one of their greatest and on-going sore spots: the fraught issue of racism.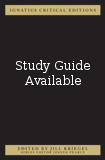 48 pp, $3.95
ICE Study Guides are constructed to aid the reader of ICE classics to achieve a level of critical and literary appreciation befitting the works themselves.
Ideally suited for students themselves and as a guide for teachers, the ICE Study Guides serve as a complement to the treasures of critical appreciation already included in ICE titles.
As Huck and Jim float down the Mississippi and encounter all manner of people and situations, and as Huck struggles mightily with his conscience concerning Jim, the novel strongly invites a moral and religious perspective. Mary R. Reichardt, the editor of this edition, is a professor of literature in the Catholic Studies department at the University of St. Thomas in St. Paul MN.
A look at the essays
"Camp meetings", or revivals, show up in Huck's adventures and in Twain's library. Fr. Anthony J. Berret, SJ, shows how this religious practice lends form to the narrative.
William F. Byrne shows how Huck Finn is not just un-Romantic, but anti-Romantic in "Huckleberry Finn as a Response to Romanticism", while John F. Devanney, Jr. navigates the troubled waters of morality in the tale: why Twain was afraid people would impose a moral on his work, and how critics have done so despite him.
In "Huck's Sound Heart", Thomas W. Stanford III investigates the conflicts of conscience that pervade the work. Aaron Urbanczyk offers "Huckleberry Finn as American Epic", the story of a young and unsettled boy in a young and unsettled country.
Mary Reichardt situates the reader with the introductory essay.
Books by Author
by last name, except for Wm. Shakespeare
Bulk Discounts Available
| Order Amount * | Discount |
| --- | --- |
| 10–49 | 20% |
| 50–99 | 35% |
| 100–249 | 49% |
| 250–749 | 51% |
| 750+ | 52% |
The Ignatius Critical Editions are available in bulk, perfect for schools, colleges, or homeschooling groups!
Meet the Minds behind the Huckleberry Finn Edition
Editors
Critical Essayists