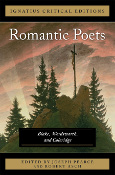 Blake, Wordsworth, and Coleridge
528 pp, $11.95. Order Now!
"Stop, Christian passer-by!—Stop, child of God,
And read with gentle breast. Beneath this sod
A poet lies, or that which once seem'd he.—
O, lift one thought in prayer for S.T.C."
The word "romantic" has so many varied meanings that C.S. Lewis quipped it should be deleted from our vocabulary. Yet, from the perspective of English literature, "romantic" is associated, first and foremost, with the poetry of Romanticism, the movement that accentuated the aesthetic value of emotion, human experience, and the majesty of nature. In this volume the finest works of the first generation of Romantic Poets—William Blake, William Wordsworth, and Samuel Taylor Coleridge—are assembled in an accessible and yet scholarly manner, together with a selection of contemporary criticism by tradition-oriented experts, in order to introduce these poets to a new generation of readers.
A look at the essays
Besides the copious editorial notes (Pearce, Asch) throughout this work, you'll find:
Joseph Pearce situates the reader with the introductory essay.
Books by Author
by last name, except for Wm. Shakespeare
Bulk Discounts Available
| Order Amount * | Discount |
| --- | --- |
| 10–49 | 20% |
| 50–99 | 35% |
| 100–249 | 49% |
| 250–749 | 51% |
| 750+ | 52% |
The Ignatius Critical Editions are available in bulk, perfect for schools, colleges, or homeschooling groups!