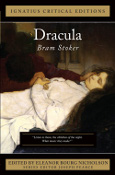 Bram Stoker
558 pp, $11.95. Order Now!
"Listen to them, the children of the night. What music they make!"
When solicitor's clerk Jonathan Harker travels to Transylvania on business to meet a mysterious Romanian count named Dracula, he little expects the horrors this strange meeting will unleash. Thus Bram Stoker's 1897 novel of blood and passion begins, rapidly accelerating from Harker's nightmarish experiences in Castle Dracula to a full-fledged vampiric assault on late-Victorian London itself. The story, narrated through a collection of documents-primarily journal entries and letters-chronicles the desperate efforts of a band of gentlemen to protect the virtue of their ladies and lay to rest the ancient threat once and for all.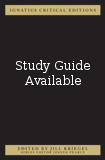 56 pp, $3.95
ICE Study Guides are constructed to aid the reader of ICE classics to achieve a level of critical and literary appreciation befitting the works themselves.
Ideally suited for students themselves and as a guide for teachers, the ICE Study Guides serve as a complement to the treasures of critical appreciation already included in ICE titles.
Often vacillating wildly between the terrible and the comic, Dracula at the same time brings to life a host of compelling themes: tensions between antiquity and modernity; the powers and limitations of technology; the critical importance of feminine virtue; the difference between superstition and religion; the nature of evil; and, perhaps most compellingly, the complex relationship between ancient faith and scientific enlightenment. More vivid than any of its varied film adaptations, and over a century after its first publication, Dracula still retains its sharp bite.
A look at the essays
Essay titles forthcoming.
Eleanor Bourg Nicholson situates the reader with the introductory essay.
Books by Author
by last name, except for Wm. Shakespeare
Bulk Discounts Available
| Order Amount * | Discount |
| --- | --- |
| 10–49 | 20% |
| 50–99 | 35% |
| 100–249 | 49% |
| 250–749 | 51% |
| 750+ | 52% |
The Ignatius Critical Editions are available in bulk, perfect for schools, colleges, or homeschooling groups!
Meet the Minds behind the Dracula Edition
Editor
Eleanor Bourg Nicholson
Eleanor Bourg Nicholson is the assistant executive editor for Dappled Things and assistant editor for the Saint Austin Review (StAR). She is editor of several Ignatius Critical Editions volumes, and has collaborated with other editors to provide footnotes for numerous others. Her epistolary novella, The Letters of Magdalen Montague (2011), is available through the kind patronage of Kaufmann Publishing. Her work has appeared in the National Catholic Register and Touchstone, as well as with First Things and The Catholic Thing. She and her husband, Professor Sam Nicholson, live in Charlottesville, Virginia, with their daughters, Beatrice and Veronica.
Works Edited
Critical Essays In