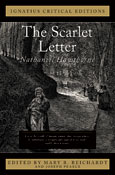 Nathaniel Hawthorne
289 pp, $8.95. Order Now!
"It is to the credit of human nature, that, except where its selfishness is brought into play, it loves more readily than it hates."
A key figure in the development of American literature, Nathaniel Hawthorne was also profoundly influenced by his ancestors and the Christianity that underscored their Puritan heritage. A literary classic, The Scarlet Letter presents a profound meditation on the nature of sin, repentance, and redemption, and on how such Christian concepts may be integrated into American democracy.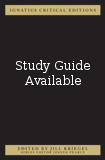 40 pp, $3.95
ICE Study Guides are constructed to aid the reader of ICE classics to achieve a level of critical and literary appreciation befitting the works themselves.
Ideally suited for students themselves and as a guide for teachers, the ICE Study Guides serve as a complement to the treasures of critical appreciation already included in ICE titles.
Mary R. Reichardt, the editor of this edition, is a professor of literature in the Catholic Studies department at the University of St. Thomas in St. Paul MN.
A look at the essays
Questions of the heart predominate in the tale; Jennifer Bonsell guides us through the interplay of symbolic representations in "Hawthorne on the Human Heart".
Richard Harp takes to task the idea that the daughter of Hester and Dimmesdale, Pearl, is merely sin embodied in "Pearl and Penance".
Nevertheless, sin is a huge part of the story's tone and plot, so we turn to Regis Martin's look at the characters' sins and their struggle to deal with its effects.
Aaron Urbanczyk situates the reader with the introductory essay.
Books by Author
by last name, except for Wm. Shakespeare
Bulk Discounts Available
| Order Amount * | Discount |
| --- | --- |
| 10–49 | 20% |
| 50–99 | 35% |
| 100–249 | 49% |
| 250–749 | 51% |
| 750+ | 52% |
The Ignatius Critical Editions are available in bulk, perfect for schools, colleges, or homeschooling groups!