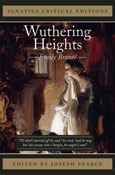 Emily Brontë
415 pp, $9.95. Order Now!
"Th' Divil's harried off his soul," he cried, "and he may hev' his carcass into t' bargin, for aught I care!"
Wuthering Heights is one of the classic novels of nineteenth century romanticism. As a major work of modern literature it retains its controversial status. What was Emily Brontë's intention? Were her intentions iconoclastic? Were they feminist? Were they Christian or post-Christian? Who are the heroes and the villains in this dark masterpiece? Are there any heroes? Are there any villains?

40 pp, $3.95
ICE Study Guides are constructed to aid the reader of ICE classics to achieve a level of critical and literary appreciation befitting the works themselves.
Ideally suited for students themselves and as a guide for teachers, the ICE Study Guides serve as a complement to the treasures of critical appreciation already included in ICE titles.
This critical edition of Emily Brontë's classic includes new and controversial critical essays by some of the leading lights in contemporary literary scholarship.
A look at the essays
Dedra McDonald Birzer's contribution demonstrates the how the theme of love (both fallen and sublime) plays out in the novel.
Then Crystal Downing tries to show new sources for the text, and in the process throw light on some things that 'haunt' the tale.
Finally, Theresa M. Kenney carefully traces out the novel's structure and content to get to an understanding of the moral and supernatural vision of Wuthering Heights, which is so often given up as obscure by various commentators. [Read excerpt.]
Joseph Pearce situates the reader with the introductory essay.
Books by Author
by last name, except for Wm. Shakespeare
Bulk Discounts Available
| Order Amount * | Discount |
| --- | --- |
| 10–49 | 20% |
| 50–99 | 35% |
| 100–249 | 49% |
| 250–749 | 51% |
| 750+ | 52% |
The Ignatius Critical Editions are available in bulk, perfect for schools, colleges, or homeschooling groups!
Meet the Minds behind the Wuthering Heights Edition
Editor
Critical Essayists