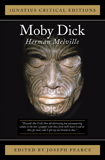 Herman Melville
706 pp, $11.95. Order Now!
"Towards thee I roll, thou all-destroying but unconquering whale; to the last I grapple with thee; from hell's heart I stab at thee; for hate's sake I spit my last breath at thee."
A sea adventure, a study of evil, and a cast of fascinating characters, including the crazed captain who is obsessed with hunting down the whale that maimed him — Moby-Dick is all of this and more.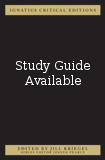 44 pp, $3.95
ICE Study Guides are constructed to aid the reader of ICE classics to achieve a level of critical and literary appreciation befitting the works themselves.
Ideally suited for students themselves and as a guide for teachers, the ICE Study Guides serve as a complement to the treasures of critical appreciation already included in ICE titles.
Based on the author's experiences as a sailor, Herman Melville's probing look into the human heart has been read and analyzed from every angle, including the most absurd. The tragic tale is looked at afresh in this Ignatius Critical Edition, which examines the background and other writings of the author and provides his essay on a work by his literary friend Nathaniel Hawthorne.
A look at the essays
Classic Criticism
"Excerpts from 'Hawthorne and His Mosses'" – Herman Melville
Contemporary Criticism
Mary R. Reichardt situates the reader with the introductory essay.
Books by Author
by last name, except for Wm. Shakespeare
Bulk Discounts Available
| Order Amount * | Discount |
| --- | --- |
| 10–49 | 20% |
| 50–99 | 35% |
| 100–249 | 49% |
| 250–749 | 51% |
| 750+ | 52% |
The Ignatius Critical Editions are available in bulk, perfect for schools, colleges, or homeschooling groups!
Meet the Minds behind the Moby-Dick Edition
Editors
Critical Essayists