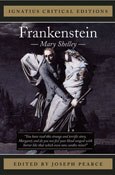 Mary Shelley
275 pp, $8.95. Order Now!
"You have read this strange and terrific story, Margaret; and do you not feel your blood congeal with horror like that which even now curdles mine?"
Mary Shelley's Frankenstein is one of the most influential and controversial novels of the nineteenth century; but has also become one of the most misunderstood and misinterpreted. It has been vivisected critically by latter-day Victor Frankensteins who have transformed the meanings emergent from the novel into monsters of postmodern misconception. Rather than understanding Frankenstein and his monster through the lens of tradition, the moderns have seized upon the book and carried off bits to construct their own particular bogeymen.

40 pp, $3.95
ICE Study Guides are constructed to aid the reader of ICE classics to achieve a level of critical and literary appreciation befitting the works themselves.
Ideally suited for students themselves and as a guide for teachers, the ICE Study Guides serve as a complement to the treasures of critical appreciation already included in ICE titles.
Seldom has a work of fiction suffered so scandalously from the slings and arrows of outrageous criticism. This critical edition, containing tradition-oriented essays by literary scholars, refutes the errors and serves as an antidote to the poison that has contaminated the critical understanding of this classic gothic novel.
The text of Frankenstein published in this book is that of the first edition, published in 1818, as distinct from the revised third edition, published in 1831.
A look at the essays
Ever wondered what grisly science surrounded the conception of Frankenstein? Jo Bath gives us an illuminating look at the period's fascination with electricity and the newly dead, and what Shelley may have known about it. [Read excerpt.]
In "Frankenstein as a Mythic Tragedy", Philip Nielsen takes on too-closely biographical readings of the work, contending it's to the realm of myth that we should look in order to understand Shelley's masterpiece. Thomas Stanford III wrestles with the common misconception that the monster's the villain in Frankenstein, plain and simple. Meanwhile, Aaron Urbanczyk investigates why Shelley chose to write her book as an "epistolary novel" — one told through letters — and why that may be just as monstrous as the plot itself.
Joseph Pearce situates the reader with the introductory essay.
Books by Author
by last name, except for Wm. Shakespeare
Meet the Minds behind the Frankenstein Edition
Editor
Critical Essayists