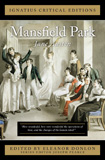 Jane Austen
566 pp, $11.95. Order Now!
"How wonderful, how very wonderful the operations of time, and the changes of the human mind!"
In all things, Jane Austen was a woman of faith. Perhaps nowhere is this more apparent than in Mansfield Park, her most neglected, abused, and misunderstood novel. Like Austen's other novels, it can be fully appreciated only when illuminated by the virtuous life and Christian beliefs of the author herself.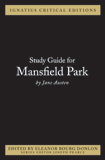 46 pp, $3.95
ICE Study Guides are constructed to aid the reader of ICE classics to achieve a level of critical and literary appreciation befitting the works themselves.
Ideally suited for students themselves and as a guide for teachers, the ICE Study Guides serve as a complement to the treasures of critical appreciation already included in ICE titles.
Mansfield Park is a novel about ordination, and about the family. It delves into questions of the education and upbringing of children, of conservative values, of parental authority, of the propriety and place of romantic love, of the tension between propriety and sophistication, and of the dangers of undue familiarity outside the family circle. It unerringly displays the depth of Austen's wisdom, especially in her understanding of the spiritual, psychological, and cultural complexities of morality.
A look at the essays
Eleanor Bourg Nicholson situates the reader with the introductory essay.
Books by Author
by last name, except for Wm. Shakespeare
Bulk Discounts Available
| Order Amount * | Discount |
| --- | --- |
| 10–49 | 20% |
| 50–99 | 35% |
| 100–249 | 49% |
| 250–749 | 51% |
| 750+ | 52% |
The Ignatius Critical Editions are available in bulk, perfect for schools, colleges, or homeschooling groups!
Meet the Minds behind the Mansfield Park Edition
Editor
Critical Essayists