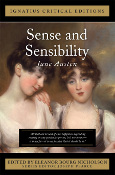 Jane Austen
496 pp, $11.95. Order Now!
"All that can be said of one's happiness depending entirely on any particular person, it is not meant—it is not fit—it is not possible that it should be so."
What are two sisters of uncertain fortunes to do when the death of their father exiles their family to live in the countryside of southwestern England? Why, fall in love, of course! Through her deft unraveling of the dramatically different romantic fates of Elinor and Marianne Dashwood, Jane Austen displays her singular mastery of the English language and her equally masterful invention of colorful and realistic characters. The author's appreciation of what it is to be human, grounded in her deeply convicted Christianity, illuminates the tale with special wisdom. In this, her first published novel, we see the sense and sensibility of Miss Austen herself, which combine to form the brilliance that shines forth in all of her works—a brilliance enlivened by her remarkable sense of humor and the affectionate kindness that could only be born of a gracious Christian spirit.
A look at the essays
Eleanor Bourg Nicholson situates the reader with the introductory essay.
Books by Author
by last name, except for Wm. Shakespeare
Bulk Discounts Available
| Order Amount * | Discount |
| --- | --- |
| 10–49 | 20% |
| 50–99 | 35% |
| 100–249 | 49% |
| 250–749 | 51% |
| 750+ | 52% |
The Ignatius Critical Editions are available in bulk, perfect for schools, colleges, or homeschooling groups!