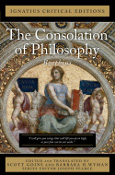 Boethius
278 pp, $8.95. Order Now!
"I will give you wings that will lift you up on high, so your fear can be cast aside."
Written in the sixth century, The Consolation of Philosophy was one of the most popular and influential works of the Middle Ages. Boethius composed the masterpiece while imprisoned and awaiting the death sentence for treason. The Christian author had served as a high-ranking government official before falling out of favor with Roman Emperor Theodoric, an Arian.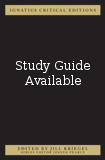 46 pp, $3.95
ICE Study Guides are constructed to aid the reader of ICE classics to achieve a level of critical and literary appreciation befitting the works themselves.
Ideally suited for students themselves and as a guide for teachers, the ICE Study Guides serve as a complement to the treasures of critical appreciation already included in ICE titles.
In the Consolation, Boethius explores the true end of life-knowledge of God-through a conversation with Lady Philosophy. Part prose, part poetry, the work combines Greek philosophy and Christian faith to formulate answers to some of life's most difficult and enduring questions.
A look at the essays
Essay titles forthcoming.
The editors situate the reader with the introductory essay.
Books by Author
by last name, except for Wm. Shakespeare
Bulk Discounts Available
| Order Amount * | Discount |
| --- | --- |
| 10–49 | 20% |
| 50–99 | 35% |
| 100–249 | 49% |
| 250–749 | 51% |
| 750+ | 52% |
The Ignatius Critical Editions are available in bulk, perfect for schools, colleges, or homeschooling groups!
Meet the Minds behind the The Consolation of Philosophy Edition
Editor-Translators
Scott Goins
Scott Goins, Ph.D., is Professor of Classics and Director of the Honors College at McNeese State University in Lake Charles, Louisiana. He received his Ph.D. and M.A. from Florida State University and has published writings on several authors including Virgil and Boethius.
Barbara H. Wyman
Barbara H. Wyman, M.A., M.F.A., teaches English and Latin at McNeese State University in Lake Charles, Louisiana. Besides Boethius, she has published writings on George Herbert, Hopkins, and others.