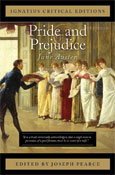 Jane Austen
417 pp, $9.95. Order Now!
"It is a truth universally acknowledged, that a single man in possession of a good fortune must be in want of a wife."
Jane Austen is arguably the finest female novelist who ever lived and Pride and Prejudice is arguably the finest, and is certainly the most popular, of her novels. An undoubted classic of world literature, its profound Christian morality is all too often missed or wilfully overlooked by today's (post)modern critics.

40 pp, $3.95
ICE Study Guides are constructed to aid the reader of ICE classics to achieve a level of critical and literary appreciation befitting the works themselves.
Ideally suited for students themselves and as a guide for teachers, the ICE Study Guides serve as a complement to the treasures of critical appreciation already included in ICE titles.
Yet Austen saw the follies and foibles of human nature, and the frictions and fidelities of family life, with an incisive eye that penetrates to the very heart of the human condition.
A look at the essays
Though knowledge of more democratic virtues, like approachability and fairness, is easy for us today, they won't get us very far in understanding a novel based on pre-Victorian social virtues and vices. Anthony Esolen comes to our rescue, pointing out the genuine virtues and social graces expected of lord and servant, parent and child, and how characters in Pride and Prejudice fail or succeed in them. [Read excerpt.]
Austen's blending of the comic and dramatic in the novel, Richard Harp shows, is seamless, instructive, and realistic. Douglas Lane Patey siezes on Austen's mastery of individualized voices for characters, whether in dialogue or in her famous free indirect speech.
Christopher Blum situates the reader with the introductory essay.
Books by Author
by last name, except for Wm. Shakespeare
Bulk Discounts Available
| Order Amount * | Discount |
| --- | --- |
| 10–49 | 20% |
| 50–99 | 35% |
| 100–249 | 49% |
| 250–749 | 51% |
| 750+ | 52% |
The Ignatius Critical Editions are available in bulk, perfect for schools, colleges, or homeschooling groups!