Looking for Classroom Options for this coming Fall?
Faith and Life is avaiilable as a full online course or as digital eTextbooks in addition to its print format.
1. Ignatius Press partnered with MyCatholicFaithDelivered several years ago to provide a fully interactive, handicap accessible online version of the Faith and Life Series. Click Here for more details or Click Here to contact a My Catholic Faith Delivered representatative. Faith and Life Online can be used by schools, parishes, and homeschooling families.
2. Ignatius Press has partnered with EdTech to include the Faith and Life Series as part of the EdTech (Shelfit.com) online digital education portal for educational institutions. EdTech provides the series as eTextbooks with the ability of educators to create lesson plans, overlays, highlight text and add comments. The eTexbooks are purchased by the institution and show up on the student's private bookshelf. Students are grouped by classroom and access the lessons through the online platform. For more information, contact EdTech via their website's (Shelfit.com) Contact Us links. Can be used by schools, parishes and homeschooling families via the EdTech platform.
The Faith and Life religious education series was written for both school and parish use and is now in its Third Edition with separate manuals for the teacher in a daily classroom setting (Teacher's Manual) and the catechist in a once a week classroom setting (Parish Catechist Manual). There is a Family Guide for parental involvement in the ongoing religious formation of the child while the student uses both a Student Textbook and a separate Activity Book
The Faith and Life Third Edition series presents Catholic teaching using the time-tested ecclesial methodology and spiral development of catechesis, in a beautiful, student-friendly, comprehensive format.
Not sure about the Fall? Watch the new webinar Online Solutions for Elementary Catechesis or a webinar on flipping the classroom for new ideas on how you might prepare. Click here for a list of all our recorded webinars.
Review the components, methodology, pedagogy, resources and support for implementing the series in your parish or school.
Just click the image below.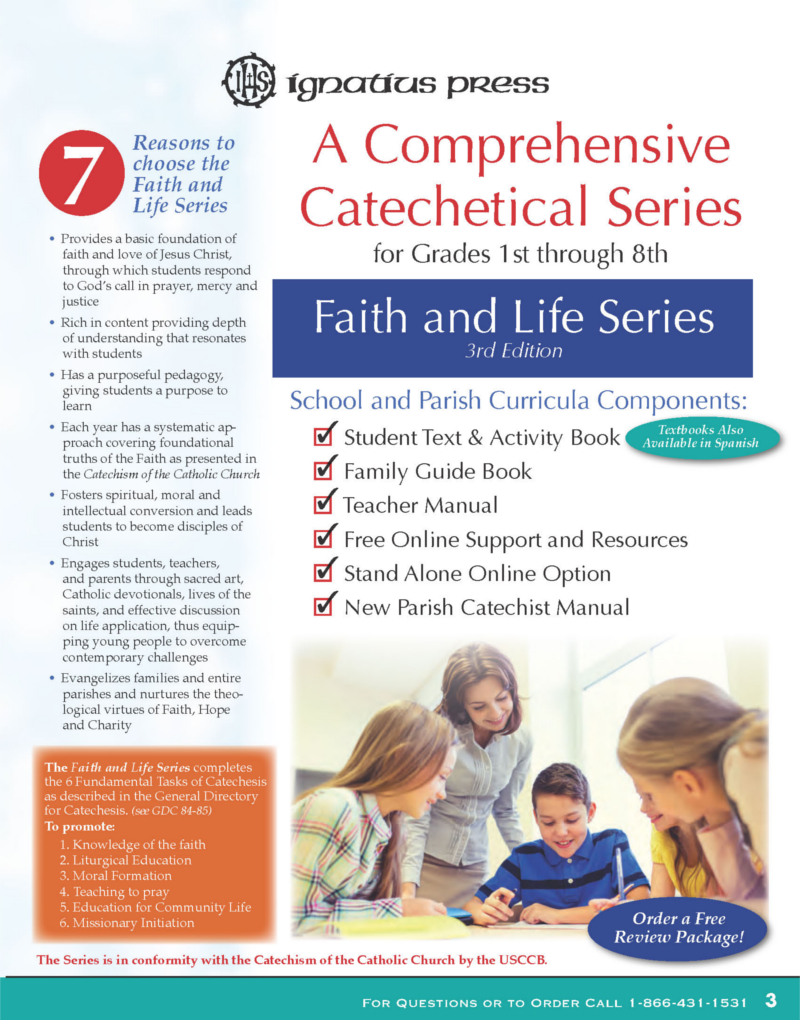 It is excellent for grades 1–8 in Catholic schools and parish catechetical programs as well as at home. (For Preschool and Kindergarten, see our Image of God series books from Ignatius Press)