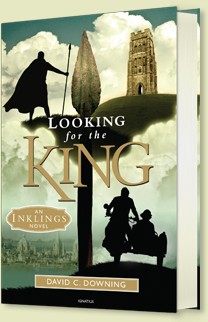 Available as
Hardcover, E-Book, or Audio Download
Who Were the Inklings?
The Inklings were an informal literary circle in Oxford that began meeting in the early 1930s and continued until the late 1940s. The nucleus of the group seemed to be C.S. Lewis and J.R.R. Tolkien, who noted that Lewis took particular pleasure in listening to others read their works aloud. (Tolkien added that Lewis had phenomenal memory for texts that he received in this way, and could quote verbatim from books he had heard a decade or two earlier.)
Lewis and Tolkien invited like-minded spirits to join them for informal, convivial meetings in Oxford pubs, later adding evening gatherings to read their works aloud, receiving both praise and candid criticism. Gradually, the schedule of Inklings meetings became regularized, so they generally met on Tuesday mornings at the "Eagle and Child" (which they called the "Bird and Baby" or just the "Bird") and at Lewis's rooms in Magdalen College on Thursday evenings. Besides Lewis and Tolkien, the third most prominent member of the Inklings was Charles Williams, an editor at Oxford University Press, who began attending meetings when the Press moved from London to Oxford during World War II. Other regular members of the Inklings included Lewis's brother, Warren Hamilton Lewis, Victor "Hugo" Dyson, Adam Fox, Lord David Cecil, Neville Coghill, Owen Barfield, Robert "Humphrey" Havard, Gervase Mathew, and Commander James Dundas-Grant.
Warren Lewis noted that the Inklings were an informal circle of friends, not an organized club or literary society, adding that there were no officers, agendas, or minutes taken. Apart from the regulars, an Inklings meeting might also include Colin Hardie, Christopher Tolkien (J.R.R. Tolkien's son), Roger Lancelyn Green, Percy Bates, Ronald McCallum, Charles Wrenn, or other visitors who had been invited (and pre-approved) by established members of the group. The golden years of the Inklings seem to have been from the late 1930s to the mid-1940s, when the group heard J.R.R. Tolkien's Lord of the Rings read aloud, as well as C.S. Lewis's Out of the Silent Planet and Perelandra, and Charles Williams' All Hallows Eve.
The name "Inklings" itself is a bit of whimsy, a pun on those who dabble in ink—writers--and those who may only have an inkling of what they intend to write about when they begin a project. (For the many Christians in the group, the name may have also suggested certain "inklings" of immortality, their assurance of things hoped for and conviction of things unseen.) The name "Inklings" was not original with Lewis, Tolkien, and their friends; they borrowed the term from an undergraduate literary society that flourished briefly in the early 1930s.
Tolkien based summed up the spirit of Inklings meetings when he called it "a feast of reason and flow of soul" (Letters, 102).
For more information, see Humphrey Carpenter, The Inklings (Houghton Mifflin, 1979); Diana Glyer, The Company They Keep: C.S. Lewis and J.R.R. Tolkien as Writers in Community (Kent State University Press, 2007); Walter Hooper, C.S. Lewis: A Companion and Guide (HarperCollins, 1996); and Harry L. Poe & James R. Veneman, The Inklings of Oxford (Zondervan, 2009).
Owen Barfield
Owen Barfield (1898-1997) made his living as a solicitor, but he is best remembered as the author of three influential books: History in English Words (1926), Poetic Diction: A Study in Meaning (1928), and Saving the Appearances (1957).
Barfield was born in London in 1898 to Arthur Barfield, a solicitor, and his wife Elizabeth, an outspoken suffragette. During World War I, Barfield served as a wireless officer in the Signal Service of the Royal Engineers, a time when radio communications still used Morse code. After the war, Barfield attended Wadham College, Oxford, and first met C.S. Lewis, who was at University College. The two became lifelong friends, even though their conversations were enlivened more by the thrust and parry of debate than by shared attitudes and perspectives.
In 1923 Barfield became an Anthroposophist, a devotee of the exotic ideas of Rudolf Steiner. This provided a good many new topics to debate, though Lewis distanced himself from such discussions after the latter's conversion to Christianity. That same year Barfield married Matilda (Maude) Douie, a professional dancer, and they raised three children, Alexander, Lucy, and Geoffrey. (Lewis's The Lion, the Witch and the Wardrobe [1950] is dedicated to Lucy Barfield.)
Though Owen Barfield showed brilliant early promise as a literary critic and philosopher, his father needed him in his law practice, and so Owen became a partner in the London firm of Barfield and Barfield in 1929. Barfield spent most of his adult life as a solicitor, handling C.S. Lewis's legal affairs, including the charitable fund Lewis used to give away most of his book royalties. Since business kept Barfield in London most of the time, he was only able to join Inklings meetings when his schedule allowed. Barfield was baptized into the Church of England in 1949, finding Christianity compatible with his ongoing interest in Anthroposophy.
After his retirement, Barfield published a fascinating series of books on culture and consciousness. He is also remembered for his literary portrait of C.S. Lewis in a novel, This Ever Diverse Pair (1950).
Lord David Cecil
Lord Edward Christian David Gascoyne Cecil (1902-1986) was the youngest son of the Marquess of Salisbury. He was educated at Christ Church, Oxford, where he earned a First Class degree in history in 1924. He was elected a fellow of Wadham College, Oxford, where he taught modern history and English literature. In 1932, Cecil married Rachel MacCarthy, a union which produced three children. In 1938, Cecil became a fellow at New College, Oxford. Like Lewis, Lord David was known for his deeply held Christian convictions and also for the excellence of his lectures. Unlike Lewis, he was lithe, slender, and soft-spoken. Lord David's specialty was biographies, and he produced nearly a dozen narratives on the lives of William Cowper, Sir Walter Scott, Thomas Gray, and other literary and historical figures. After his retirement, Lord David appeared frequently on BBC television programs concerning the arts. His wife Rachel published a highly readable novel, Theresa's Choice (1958).
Neville Coghill
Neville Henry Kendal Aylmer Coghill (1899-1980) was born at Castle Townshend in County Cork, Ireland. Coghill served as a second lieutenant in the trench mortar division of the Royal Artillery during World War I. After the war, he matriculated at Exeter College, Oxford, earning a First Class degree in English in 1923. Coghill became a fellow at Exeter in 1925, demonstrating his talents as a dramatic producer in his leadership of the Oxford University Dramatic Society. Among the actors whom Coghill directed in those years was the young Richard Jenkins, who later earned worldwide fame under the name of Richard Burton. In 1957, Coghill was elected the Merton Professor of English Literature. His specialty was Middle English, and his verse translations of Chaucer into contemporary English have become standards for beginning students in medieval literature.
James Dundas-Grant
James Harold Dundas-Grant (1896-1985) was born in London, the son of a Scots physician. After being educated at Eton, Dundas-Grant served in the royal navy during World War I, hospitalized after he was exposed to a poison gas attack. He was recalled to active duty during World War II, and met C.S. Lewis in 1944 while serving as commander of the Oxford University Naval Division. Though not an academic, Dundas-Grant began attending Inklings meetings both on Tuesday mornings and Thursday evenings. A devout Catholic, Dundas-Grant was directed several sacred choirs and he and his wife were active in mentoring Catholic undergraduates at Oxford.
Victor Dyson
Henry Victor "Hugo" Dyson (1896-1975) was born in Hove, East Sussex, and educated at Brighton College and the Royal Military College at Sandhurst (the British equivalent of West Point). He served as a first lieutenant during World War I for three years, until he was seriously wounded at Passchendaele, one of the most horrific campaigns of the entire war. After the armistice, Dyson studied at Exeter College, Oxford, earning his bachelor's degree in English in 1921 and his masters in 1925. Marrying Margaret Robinson that same year, Dyson served as a tutor and lecturer at Reading University, south of Oxford, for the next two decades.
Dyson first met C.S. Lewis in 1930, and the latter was struck by Dyson's probing philosophical intellect and the depth of his Christian convictions. It was Hugo Dyson, along with J.R.R. Tolkien, who had a long talk with C.S. Lewis in September 1931 about the "Dying God" myth, a talk which lasted well into the night and paved way for Lewis's own conversion.
Dyson was better known for his brilliant wit and his ebullient spirits than for his scholarly output. With John Butt, Dyson produced a readable survey of major Neoclassical and Romantic authors, Augustans and Romantics, 1689-1930 (1940). Warren Lewis enjoyed recording Dyson's bon mots in his diary. On one occasion, when a small boy stumbled on some cobblestones, Dyson pleaded with him, "Please don't do that, my boy. It hurts you and it distresses us." On another occasion when they were discussing how much C.S. Lewis's life had become dominated by his adoptive mother, Mrs. Moore, Dyson comically applied a line from Othello: "O cursed spite that gave thee to the Moor." (Brothers and Friends, 98, 193). Dyson became a fellow at Merton College in 1945, which made it easier for him to attend meetings of the Inklings. In his later years, Dyson became something of a media personality, giving several popular talks about Shakespeare on BBC television and appearing in the 1965 movie Darling, starring Julie Christie and Dirk Bogarde.
Adam Fox
Adam Fox (1883-1977) was born in Kensington, attended Winchester College (what Americans would call a private prep school) and then University College, Oxford. In 1929, Fox became a Fellow and Dean of Divinity at Magdalen College, Oxford. In 1937 Fox received the prestigious position of Professor of Poetry at Oxford, largely through the success campaigning of his friends Lewis and Tolkien. In 1942 he was appointed a canon at Westminster Abbey, and he proved to be a better preacher than he was a poet. Apart from publishing a few volumes of poems, much admired by C.S. Lewis, Fox showed his versatility in writing books on subjects as diverse as the philosophy of Plato, New Testament Greek, English hymns, and the mysticism of Dean Inge. Fox's ashes are buried in Poet's Corner, Westminster Abbey.
Robert Havard
Robert Emlyn "Humphrey" Havard (1901-1985) was a physician who counted C.S. Lewis among his patients. He was born and raised in Lincolnshire, earning a first class degree in chemistry from Keble College in 1921. After a series of jobs in the medical field, he took a position teaching biochemistry at Leeds University. Havard married Grace Middleton, a graduate of St. Anne's College, Oxford, and the two of them had five children. In 1934, Havard established a medical practice in Oxford, and soon afterwards he met C.S. Lewis. Havard reported that Lewis would spend only a few minutes discussing his medical symptoms, as he preferred philosophical and ethical questions. Havard became one of the most regular attendees at Inklings meetings and seems to have collected the most nicknames. Hugo Dyson started calling him "Humphrey," and the name seems to have been used more than Havard's Christian name. (The physician mentioned briefly in Lewis's novel Perelandra is called "Humphrey.") Havard was also called the "Useless Quack" or "U. Q." by Warren Lewis and the "Red Admiral" by C.S. Lewis when he returned from World War II service at sea wearing a ruddy beard.
C.S. Lewis
C.S. Lewis had three careers as a writer, all them remarkable. He is most widely known as the creator of the classic children's series, the Chronicles of Narnia. But he was also one of the most highly-regarded literary scholars of his generation and one of the 20th century's most influential advocates for Christian faith.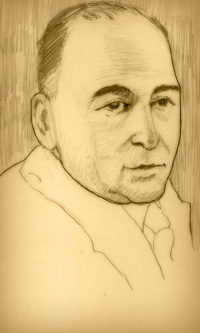 Read more
about C.S. Lewis »
Warren H. Lewis
Warren Hamilton Lewis (1895-1973) was C.S. Lewis's older brother and lifelong friend. Like his younger brother, Warren was born in Belfast, educated first at Wynyard School in Hertfordshire, than at Malvern College. Warren chose a military career over an academic one, graduated from Sandhurst in 1914. Warren served with the Royal Army Service Corps during World War I, continuing his military career afterwards in West Africa and then China. Retiring from the army in 1932, he retired to Oxford to join the household at Kilns. He spent the next two years editing the 11-volume "Lewis Papers," a loosely-organized family archive that contains excerpts from letters by the Lewis brothers' ancestors, their parents, and themselves. Warren was briefly recalled to active duty in 1939, and took part in the evacuation of Dunkirk in the spring of 1940, before being assigned to the Home Guard in Oxford. Warren was one of the authors who read a manuscript to his fellow Inklings, his first book, The Splendid Century, eventually published in 1953. During the fifties and early sixties, Warren continued to produce a series of highly readable popular histories on lives and court intrigues in 17th and 18th century France.
Gervase Mathew
Father Anthony Gervase Mathew (1905-1976) was educated at Balliol College, Oxford, taking a degree in modern history. In 1928, he joined the Dominican Order, taking the name Gervase. He was ordained in 1934, co-authoring a book with his brother that same year called The Reformation and the Contemplative Life. Mathew was an expert on Byzantine art, frequently offering illustrated lectures (without pay) at Oxford, as well as publishing essays and books on the subject.
J.R.R. Tolkien
John Ronald Reuel Tolkien (1892-1973) is best known as the author of The Hobbit (1938) and The Lord of the Rings (1955-56). He was also a philologist, a poet, and a professor of languages and literature at Oxford.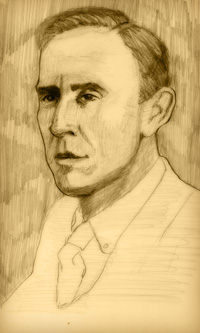 Read more
about J.R.R. Tolkien »
Charles Williams
Charles Walter Stansby Williams (1886-1945) was born in London and educated at St. Albans School and the University of London. He began working for Oxford University Press in 1908 and worked there his whole life. He married Florence Conway in 1917, and the couple had one son.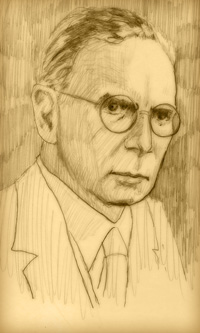 Read more
about Charles Williams »
Buy this book: Hardcover, E-Book, or Audio Download

The Author
David C. Downing, PhD, is the R.W. Schlosser Professor of English at Elizabethtown College in Pennsylvania. He is the author of four award-winning books on C.S. Lewis: Planets in Peril, The Most Reluctant Convert, Into the Region of Awe: Mysticism in C.S. Lewis, and Into the Wardrobe: C.S. Lewis and the Narnia Chronicles. Downing has also written short fiction for Christianity Today and other periodicals. Read more