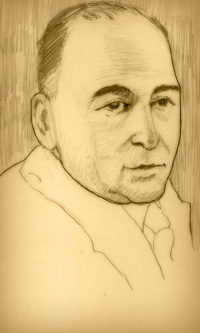 C.S. Lewis
C.S. Lewis had three careers as a writer, all them remarkable. He is most widely known as the creator of the classic children's series, the Chronicles of Narnia. But he was also one of the most highly-regarded literary scholars of his generation and one of the 20th century's most influential advocates for Christian faith.
Clive Staples Lewis was born in Belfast in 1898, the second son of Albert Lewis, a successful Belfast attorney, and Florence Hamilton Lewis. His brother, Warren Hamilton Lewis, three years older, was his closest playmate during childhood and the two remained close throughout their lifetimes. About about the age of three or four, the young Lewis marched up to his mother, pointed to himself, and declared, "He is Jacksie," refusing to answer to any other name. And so Jacksie, later shortened to Jack, he became to his friends and family for the rest of his life.
The Lewis brothers grew up during the time of "the troubles" in Ireland, tensions between Catholics and Protestants that sometimes flared up into violence. Lewis's father Albert was a stout Ulsterman, vigorously defending the rights of the Protestants in the north of Ireland. His mother, though also Protestant, tried to stress cooperation and peaceful co-existence. Despite these background tensions, Lewis generally recalled his early childhood as a time of loving parents, good food, plenty of room for outdoor play.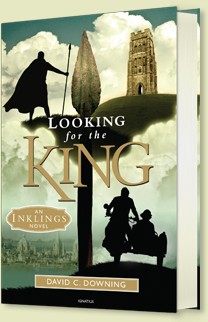 Available as
Hardcover, E-Book, or Audio Download
For Lewis, childhood came to an abrupt end at the age of nine when his mother died. She was diagnosed with cancer early in 1908 and passed away within six months, at the age of 46. Less than a month after the death of his mother, young Jack was sent to Wynyard, a boarding school in Watford, England. As if he weren't already miserable, this turned out to be a wretched place, with primitive facilities and an abusive schoolmaster, Robert Capron, who seemed to take positive pleasure in caning the boys and abusing them verbally. Capron, with his mop of gray hair, pointed nose, and mirthless smile seems to be caricatured in the figure of Uncle Andrew in The Magician's Nephew (1955).
After leaving Wynyard, Lewis spent a term at Campbell College, near his home in Belfast, but dropped out after only one term due to illness. The next year he traveled to Cherbourg House, a private boarding school in Malvern, Worcestershire. Jack was much happier at Cherbourg, largely, it seems, because of the matron there, who acted as a surrogate mother for the boys. It was about this time that the young Lewis set aside the Christian faith of his childhood.
After Cherbourg, Lewis moved on to Malvern, a preparatory school in the same town. He was intensely unhappy there, loathing the required sports and the clique of boys who formed a self-appointed elite. After Lewis spent two years of misery at Malvern, his father eventually arranged to have him study with a private tutor in Great Bookham, Surrey. Living with this outspokenly atheistic tutor, William Kirkpatrick, Lewis found his unbelief reinforced by his reading in the natural sciences and the social sciences.
After finishing his preparatory work with William Kirkpatrick, Lewis entered University College, Oxford, in April 1917. But he had barely arrived when his education was interrupted by World War One and a two-year stint in the British army. In June 1917 he joined a cadet battalion billeted in Oxford, where his roommate was Edward F. C. "Paddy" Moore. The two soon became friends, and Paddy introduced Jack to his mother, Mrs. Janie King Moore, then forty-five, and his eleven-year-old sister Maureen.
Before they were shipped off to France, Jack and Paddy pledged to each other that if one of them did not return from the fighting, the other would do his best to look after the parent left behind. Jack arrived at the front lines on his nineteenth birthday, November 29, 1917. In February of the following year he developed a case of trench fever and spent a month in a French hospital. In April he was wounded in three places by an English shell that fell short. He had to be evacuated first to a mobile hospital in France, then back to England.
In that same spring of 1918, Paddy was reported missing in action and confirmed as dead by the end of the summer. During his convalescence, Jack was never able to convince his father Albert, still in Belfast, to visit him in an English hospital. Yet Mrs. Moore came often; the bereaved mother and the abandoned son turned to each other for strength and consolation. During that time, Lewis in effect exchanged parents, gaining a new mother and all but losing a father. When Jack returned to Oxford in 1919 to resume his studies, he finished out his last year of required residence, then moved in with Maureen and Mrs. Moore. Before long he began introducing her as his mother, and the two stayed together for over 30 years until her death in 1951.
In 1919, Lewis published his first book, a collection of poems, Spirits in Bondage, under the pen name Clive Hamilton, an intriguing amalgam of vivid battle poems, romantic recollections of Ireland and cynical philosophical reflections influenced by the German philosopher Schopenhauer.
When Lewis returned to University College after the war, resuming his studies in the humanities, he met Owen Barfield and the two became lifelong friends. Lewis and Barfield had the kind of friendship that thrives on incessant debate, honing each other's minds as steel sharpens steel. Lewis would eventually dedicate his magisterial The Allegory of Love (1936) to Barfield, "wisest and best of my unofficial teachers."
Lewis completed his Oxford studies with great distinction, earning First Class degrees in classics (1920), ancient philosophy (1922), and English literature (1923). In the academic year 1924-25 Lewis accepted a one-year appointment as a lecturer and tutor in philosophy, a position which afforded him the opportunity for broad and careful reading in philosophy, from ancient to modern. In 1925 he was elected a Fellow at Magdalen College, Oxford, a position in English language and literature. In 1927 Lewis published a book-length narrative poem Dymer, an attempt at modern myth-making combined with social satire. The poem was largely ignored by critics and by the public, confirming that Lewis's literary career would not be that of a poet.
As he studied formal philosophy in his twenties, Lewis moved away from his adolescent atheism and became interested in various forms of Idealism. In the summer of 1929, at age 30, Lewis converted to Theism, believing in a personal God but not quite sure how to define his newfound faith. He found himself increasingly attracted to Christian writers such as Samuel Johnson, George MacDonald, and G. K. Chesterton. He also found kindred spirits in the Christians he met at Oxford, especially J.R.R. Tolkien, then a professor of Anglo-Saxon language and literature at Exeter College. Tolkien began meeting with Lewis in the late '20s to read and talk about his earliest Middle Earth stories, which were later published as The Silmarillion (1977), the "prequel" to his epic Lord of the Rings fantasy.
It was Tolkien, as well as another Christian friend, Hugo Dyson, who initiated a major change in Lewis's thinking in September 1931. Lewis had read Sir James Frazier's The Golden Bough in his Great Bookham days, a massive study in comparative religion that traces the "dying god" myth in many times and cultures. As a teenager, Lewis concluded that there was nothing particularly unique about Christian narratives of a God who came to earth, died, and rose again. But Tolkien offered a different interpretation. He argued that all those dying god myths revealed a universal intuition that humans cannot save themselves, that they need redemption as a gift from some higher plane. Tolkien explained Christ's Incarnation as the historical embodiment of the Dying God myth, the universal story of One who gives himself for the sake of his people.
Tolkien's paradigm of the Incarnation as "True Myth" was indeed good news for Lewis, providing him with the grand synthesis he had been seeking since he'd lost his faith in his early teens. In bringing together intellect and imagination, a lifelong love of fantasy with a newfound confidence in faith, Lewis laid the foundations for one of the most remarkable writing careers of the twentieth century. In his teens, Lewis had warned a Christian friend about the danger of "intellectual stagnation" for those who embrace traditional religious beliefs. But this would not prove to be a problem for Lewis himself. In the first half of his life, his reputation as a writer rested upon two slim volumes of poetry, both of which went out of print nearly as soon as they were issued. But in the second half of his life, he wrote more than forty books, including many acknowledged classics of their kind. As a literary scholar and critic, he is well-known for The Allegory of Love (1936), A Preface to Paradise Lost (1942), English Literature in the Sixteenth Century, Excluding Drama (1954), and The Discarded Image (published posthumously in 1964). His classic works of Christian apologetics and meditation include The Problem of Pain (1940), The Screwtape Letters (1942), Miracles (1947), and Mere Christianity (1952). Besides the Chronicles, Lewis's fiction includes also the award-winning "Space Trilogy"—Out of the Silent Planet (1938), Perelandra (1943), and That Hideous Strength (1945)—as well as a highly-regarded late novel Till We Have Faces (1956).
While Lewis's intellectual life was extremely active during his middle years, his external life was more settled. In 1930 he moved with Mrs. Moore and her daughter Maureen into a house north of Oxford called "the Kilns," named after the brick kilns on the property. In 1932 Warren Lewis retired from the army and joined the others in the Oxford household.
In the early thirties the two Lewis brothers began meeting with Tolkien and other like-minded friends to read and discuss their works-in-progress or just to revel in each other's company. This is the informal group that eventually evolved into the "Inklings." Lewis's public visibility continued to grow throughout the 1940s. During World War II he was invited to lecture on Christianity to members of the Royal Air Force, and he spent most weekends during the war years traveling to bases all over Great Britain. He also gave four series of radio talks on the BBC, which were later collected as Mere Christianity (1952).
Apart from the increased attention Lewis began to receive as the Narnia Chronicles were published, the early 1950s brought other changes into his life as well. In January 1951 Mrs. Moore died, after several years of physical and mental decline. In 1954 he accepted a position created just for him, the Professor of Medieval and Renaissance Studies at Magdalene College, Cambridge. Though he retained this prestigious post until he retired in 1963, Lewis took the train home to the Kilns most weekends to be with his brother and his Oxford friends.
In September 1952 Lewis met Joy Davidman for the first time. An atheist and a Communist in her youth, Joy had become a Christian, partly through reading Lewis's books, and she began writing to him in 1950. Her letters to Lewis stood out from mountains of other fan letters as unusually witty and lively, so she was established as one of his more notable "pen friends" by the time they met face to face. When Lewis first met Joy, she was Joy Davidman Gresham, the wife of American novelist Bill Gresham and mother of two sons, David and Douglas. The marriage was under severe strain, and when a breakup came, Joy and her two sons moved to England permanently in 1953. Joy was divorced from Gresham in 1954 and gradually, her friendship with Lewis deepened into something more than friendship. When the English Home Office refused to extend Joy's visa, Lewis agreed to marry her in a civil ceremony in 1956 in order to give her English citizenship. Some of those closest to Lewis objected to this, but he felt, perhaps naively, that a civil ceremony was a mere formality which would not affect their actual relationship.
In October 1956 Joy was diagnosed with bone cancer. The news seems to have changed her relationship with Lewis; within a few months, it was clear their companionship had ripened into love. The two were married in an Anglican ceremony in her hospital room in March 1957. By then Joy's cancer was in an advanced stage; she was confined to bed in a great deal of pain. When she was released from the hospital in April, it was assumed she had only weeks to live.
Mr. and Mrs. Lewis had a temporary reprieve in her last years, as she became strong enough to walk and to accompany Jack on a visit to Ireland in the summer of 1958. By the autumn of 1959, the bone cancer returned. Despite her deteriorating condition, the Lewises traveled to Greece with friends in the spring of 1960. Joy Davidman Lewis died in July 1960 at 45 years of age—nearly the same age at which Lewis's mother had died.
Lewis's own health was not good in the years following Joy's death. He suffered from heart and kidney disease and began receiving blood transfusions in 1961. He had a heart attack in July 1963 and went into a coma. After receiving Last Rites, he surprised everyone by waking up from his coma and asking for a cup of tea. Though he was comfortable and cheerful, Lewis never fully recovered from this condition. He died quietly on November 22, 1963.
Buy this book: Hardcover, E-Book, or Audio Download

The Author
David C. Downing, PhD, is the R.W. Schlosser Professor of English at Elizabethtown College in Pennsylvania. He is the author of four award-winning books on C.S. Lewis: Planets in Peril, The Most Reluctant Convert, Into the Region of Awe: Mysticism in C.S. Lewis, and Into the Wardrobe: C.S. Lewis and the Narnia Chronicles. Downing has also written short fiction for Christianity Today and other periodicals. Read more