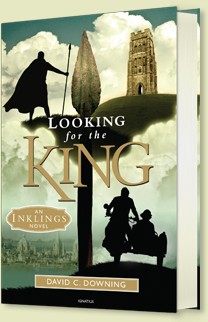 Available as
Hardcover, E-Book, or Audio Download
About the Author

David C. Downing is the R.W. Schlosser Professor of English at Elizabethtown College in Lancaster County, Pennsylvania. Downing earned his BA in English from Westmont College in Santa Barbara, California, and his MA and PhD from UCLA. Downing taught for fifteen years at his alma mater, where he was twice honored as Teacher of the Year. Currently he teaches professional and creative writing at Elizabethtown.
Downing is the author of four award-winning non-fiction books on C.S. Lewis. His first book on Lewis is Planets in Peril: A Critical Study of C.S. Lewis's Ransom Trilogy (University of Massachusetts Press, 1992). Science Fiction Studies, the leading scholarly journal in the field, hailed Planets in Peril as "a major contribution to Lewis studies which should be the standard work on the Ransom trilogy for many years." Planets in Peril was named as one of the Outstanding Books of the Year by the American Library Association and honored as the Mythopoeic Society's Book of the Year.
Downing's second Lewis book is The Most Reluctant Convert: C.S. Lewis's Journey to Faith (InterVarsity, 2002). This was named by the American Library Association as one of the Top Ten Books of the Year in the category of Religion. The Evangelical Christian Publishers Association named The Most Reluctant Convert as a finalist for a 2003 Gold Medallion Book Award in the category of Biography.
Downing's two most recent books on Lewis, Into the Region of Awe (2005) and Into the Wardrobe (2005) were both named in Christianity Today as among the top ten new books on Lewis published in that year. In recent years, Downing has been invited to speak on C.S. Lewis and J.R.R. Tolkien in New York, Chicago, Los Angeles, Montreal, Vancouver, and Oxford, England. He has also been interviewed on Lewis by radio stations all over the country and has contributed articles on Lewis and Tolkien to Christianity Today, Christianity and Literature, Books and Culture, Christian Scholars Review, Seven: An Anglo-American Review, and The Bulletin of the C.S. Lewis Society. He is also a consulting editor for most of the journals named above. He is also an official blogger for CSLewis.com.
Apart from his fiction and his C.S. Lewis books, Downing has also produced a book of creative non-fiction, A South Divided: Portraits of Dissent in the Confederacy (Cumberland House, 2007), which was nominated for the Lincoln Award sponsored by the Civil War Institute at Gettysburg College.
Downing's wife, Crystal, is a professor of English and film studies at Messiah College in Grantham, Pennsylvania. She is the author of Writing Performances: The Stages of Dorothy L. Sayers (2004) and How Postmodernism Serves (My) Faith (2006).
Buy this book: Hardcover, E-Book, or Audio Download