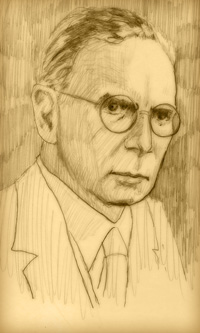 Charles Williams
Charles Walter Stansby Williams (1886-1945) was born in London and educated at St. Albans School and the University of London. He began working for Oxford University Press in 1908 and worked there his whole life. He married Florence Conway in 1917, and the couple had one son.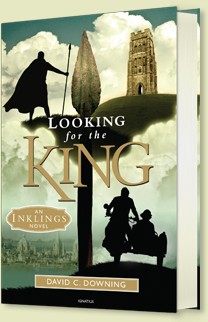 Available as
Hardcover, E-Book, or Audio Download
Williams and C.S. Lewis first became acquainted when their letters praising each other's books nearly crossed in the mail. Williams wrote to Lewis to express his admiration for The Allegory of Love (1936), just as Lewis was getting ready to write and tell how much he enjoyed Williams' novel, The Place of the Lion (1931). The two met soon afterwards in person, and became fast friends until Williams' untimely death in 1945. In 1939, Oxford University Press relocated from London to Oxford to escape wartime bombing, and Williams soon became a regular fixture at Inklings meetings. Williams was very widely read, with an encyclopedic memory, and he soon began lecturing in Oxford. He was a dynamic speaker who used almost no notes, and he was often willing to join listeners at local pub to continue the discussion. Particularly memorable was Williams' 1940 lecture on Milton's Comus at the Divinity School, a lecture that Lewis recalled for its literary and spiritual depth the rest of his life.
Apart from his friends among the Inklings, Williams was a close friend of figures as diverse as T. S. Eliot, W. H. Auden, and Dorothy Sayers, all of whom remarked that, in person, Williams almost seemed to them a kind of saint. Williams was prolific author, writing seven novels sometimes called "supernatural thrillers," as well as books of theology, church history, biography, as well as two cycles of Arthurian poems, Taliessen through Logres (1948) and The Region of the Summer Stars (1944).
Buy this book: Hardcover, E-Book, or Audio Download

The Author
David C. Downing, PhD, is the R.W. Schlosser Professor of English at Elizabethtown College in Pennsylvania. He is the author of four award-winning books on C.S. Lewis: Planets in Peril, The Most Reluctant Convert, Into the Region of Awe: Mysticism in C.S. Lewis, and Into the Wardrobe: C.S. Lewis and the Narnia Chronicles. Downing has also written short fiction for Christianity Today and other periodicals. Read more