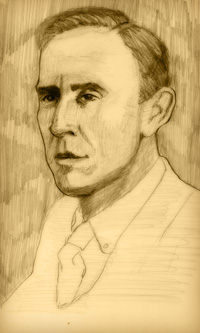 J.R.R. Tolkien
John Ronald Reuel Tolkien (1892-1973) is best known as the author of The Hobbit (1938) and The Lord of the Rings (1955-56). He was also a philologist, a poet, and a professor of languages and literature at Oxford.
Tolkien was born in Bloemfontein in what was then the Orange Free State (now a province of South Africa) to English parents, Arthur Tolkien, a banker, and his wife Mabel. When Tolkien was three years old, visiting England with his mother and brother Hilary, his father, a banker back in South Africa, died of rheumatic fever. In 1896, Mabel Tolkien and her two sons took up residence in Sarehole, Worchestershire, then only a village, despite its proximity to the sprawling industrial city of Birmingham. Tolkien learned to read at the age of four, enjoying the study of languages especially and showing an early interest in drawing trees and flowers. Tolkien attended some of the best schools in the area, King Edward's School and St. Philip's School. In 1900, Mabel Tolkien became a Roman Catholic, despite vehement protests from her family and their withdrawal of financial support. She died of diabetes in 1904, when Tolkien was 12 years old, and he always looked upon her thereafter as a kind of martyr for her beliefs.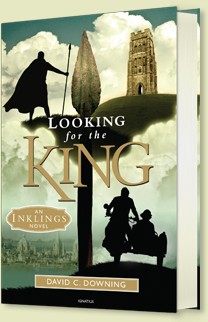 Available as
Hardcover, E-Book, or Audio Download
Tolkien studied at Exeter College, Oxford, graduating in 1915 with a first-class degree in English Language and Literature. In 1916 Tolkien married Edith Bratt, a fellow orphan three years his senior. Tolkien served as a second lieutenant in World War I, a signals officer at the battle of the Somme, who once endured nearly fifty hours without sleep during a nearly continuous barrage. In 1916, Tolkien developed a case of trench fever and was taken back to England, effectively ending his combat role in the army. During this period Tolkien began developing his cycle of stories, or "legendarium" as he called it, that would later be published posthumously as The Silmarillion (1977) and The Children of Hurin (2007). In 1917, the Tolkiens had their first child, John, who would later be joined by Michael (1920), Christopher (1924), and Priscilla (1929).
After the war, Tolkien worked as a Germanic language specialist for the massive lexicographical project that would eventually become the Oxford English Dictionary. In 1920, he secured an academic post at the University of Leeds, where he distinguished himself by producing critical editions of classic medieval texts, and an important lexical handbook to Middle English. In 1925, Tolkien was elected the Rawlinson and Bosworth Professor of Anglo-Saxon at Oxford University, a position he held for two decades. He was the Merton Professor of English Language and Literature from 1945-1959.
Tolkien first met C.S. Lewis in 1926, and the two discovered they had many mutual enthusiasms—Old and Middle English, Norse myths and legends, and the fantasies and romances of George MacDonald, William Morris, and Rider Haggard. Tolkien inaugurated a group called the Kolibar, "Coalbiters," who studied Norse myths and sagas in the original languages. (The name "Coalbiters" refers to the idea of a group gathered so close around the fire that each one could practical take a coal in his teeth.) Lewis soon joined this group, and it was through their growing friendship that Lewis eventually came to re-embrace the Christian faith of his childhood.
Tolkien's 1936 British Academy lecture, "Beowulf: The Monster and the Critics" was a seminal work in Beowulf studies, arguing that the text merited study as a work of classic literary art, not just as a linguistic artifact. Equally influential is Tolkien's 1939 Andrew Lange lecture "On Fairy Stories," which is the classic defense of fantasy literature as one of the most serious and profound of literary genres.
Though Tolkien read aloud most of what was called his "New Hobbit" (published as The Lord of the Rings epic in 1954-55) to the Inklings, he considered Lewis to be the intellectual and emotional center of the group. He once referred to an Inklings meetings wrily as a "Lewis séance" (Letters, 76). Tolkien retired from academic life in 1959, and the paperback edition of his Rings epic became international bestsellers in the mid-1960s. He retired to Bournemouth in his last years.
Despite the many collections of poems and tales that have been edited by Tolkien's son Christopher and published posthumously, Tolkien's reputation rests most securely on his classic children's tale, The Hobbit, and the fantasy epic The Lord of the Rings.
Buy this book: Hardcover, E-Book, or Audio Download

The Author
David C. Downing, PhD, is the R.W. Schlosser Professor of English at Elizabethtown College in Pennsylvania. He is the author of four award-winning books on C.S. Lewis: Planets in Peril, The Most Reluctant Convert, Into the Region of Awe: Mysticism in C.S. Lewis, and Into the Wardrobe: C.S. Lewis and the Narnia Chronicles. Downing has also written short fiction for Christianity Today and other periodicals. Read more