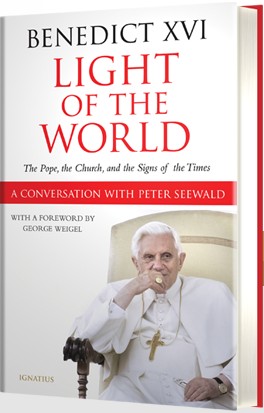 Available in Hardcover, in Spanish, and as an Audio Book, E-book, and Audio Download

Order the 6-CD audio book online today! Click here.
Endorsements
The extraordinary personal and professional chemistry of Peter Seewald and Joseph Ratzinger has proven itself over the years in previous book-length interviews. Light of the World is Seewald's latest conversation with the man who is now Pope Benedict XVI — and arguably the most compelling. The Benedict XVI who emerges from these pages is a man of profound faith and intellect, combined with disarming simplicity, and willing to engage any issue frankly and without rancor. For anyone interested in the future of the Church, this book is 'must' reading.
— Charles J. Chaput, OFMCap, Archbishop of Denver
As an intellectual and as a pastor, Benedict witnesses — with great joy and unwavering hope — that God does matter.
— Thomas Wenski, Archbishop of Miami, Florida
In the past, when people have asked me where to start in understanding the Holy Father's mind, I've always directed them to the previous two interview books plus his autobiography . . . . Essential.

Light of the World fits in that same vein. Those who are familiar with Ratzinger's thought, with his program, with his understanding of Church, the world and human existence will find this to be absolutely consistent. Even the statements — and there are some — that are fairly hot and will garner headlines and puzzled blog posts on all sides — they're consistent.
— Amy Welborn, Author, Come Meet Jesus
I have had the privilege of knowing many men and women of high intelligence, even genius, in my lifetime; I have never known anyone like Benedict XVI who, when one asks him a question, pauses, thinks carefully, and then answers in complete paragraphs — often in his third, fourth, or fifth language. Peter Seewald's well-crafted questions give Benedict XVI good material with which to work. But it is the remarkably lucid and precise mind of Joseph Ratzinger that makes the papal answers here sing.
— George Weigel, from the Foreword
... 2. The Abuse Scandal ... 9. Ecumenism and the Dialogue with Islam ... more
Peter Seewald is a veteran German journalist... more
See the latest news and reviews... more