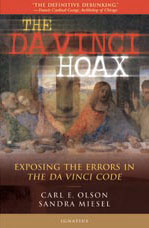 The Da Vinci Hoax


Exposing the Errors in The Da Vinci Code
Carl Olson & Sandra Miesel
The Da Vinci Code, Dan Brown's best selling novel, purports to be more than fiction: it claims to be based on fact and scholarly research. Brown wants his readers to believe that he is revealing the long-concealed truth about Jesus, Mary Magdalene, and early Christianity, a truth that he says has been suppressed by the malevolent and conspiratorial forces of the Catholic Church. The novel alleges that there has been throughout history a secret group of true followers of a Gnostic Jesus and his wife, Mary Magdalene, the true "Holy Grail". Almost everything most Christians and non-Christians think they know about Jesus, according to Dan Brown, is completely wrong, the result of Catholic propaganda designed to hide the truth from the world.

But are The Da Vinci Code's claims fact or just plain fiction? Is the novel well-researched as claimed? What is the truth about Jesus, Mary Magdalene, and the early Church? Has the Catholic Church distorted the real Jesus? Why is the novel so popular? What about the anti-Catholic, anti-Christian agenda behind the novel?

Best selling author Carl Olson and journalist Sandra Miesel answer these and other important questions. Their painstaking research into The Da Vinci Code and its sources reveals some surprising truths. No one who has read or heard about The Da Vinci Code should miss this provocative and illuminating new book. >> CLICK TO ORDER

Also available: The Da Vinci Hoax Audiobook--listen to this bestseller on CD! >>CLICK TO ORDER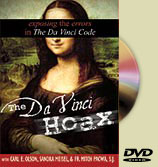 NEW: The Da Vinci Hoax DVD
Hosted by Fr. Mitch Pacwa, S.J., with Carl E. Olson and Sandra Miesel
Now the insights and arguments of the best selling exposé, The Da Vinci Hoax, are available on DVD. Apologist Carl E. Olson, historian Sandra Meisel, and Jesuit biblical scholar Fr. Mitch Pacwa, S.J. join forces to expose the myths of Dan Brown's popular novel, The Da Vinci Code.
Using top-notch graphics and outstanding art, this powerful, in-depth documentary gives an inspiring visual and intellectual presentation on the real truth about Christianity, and a devastating critique of the numerous errors and deceptions in The Da Vinci Code about Jesus, Mary Magdalene, the early Christians and the Catholic Church. >> CLICK TO ORDER