Mother Teresa's life sounds like a legend. The Albanian girl who entered an Irish order to go to India as a missionary and became an "Angel of the Poor" for countless people. She was greatly revered by Christians as well as Muslims, Hindus and unbelievers, as she brought the message of Christian love for one's neighbor from the slums of Calcutta to the whole world.
Fr. Leo Maasburg was there as her close companion for many years, traveling with her throughout the world and was witness to countless miracles and incredible little-known occurrences. In this personal portrait of the beloved nun, he presents fifty amazing stories about her that most people have never heard, wonderful and delightful stories about miracles, small and great, that he was privileged to experience at Mother Teresa's side. Stories of how, without a penny to her name, she started an orphanage in Spain, and at the same time saved a declining railroad company from ruin, and so many more... read more
THE AUTHOR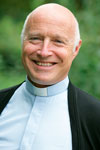 Fr. Leo Maasburg was a close friend of Mother Teresa for many years, as her spiritual advisor, translator, and her confessor. He travelled with her in India, Rome, and on many journeys ranging from Moscow, to Cuba to New York. See more on his Author page.
PRAISE FOR
MOTHER TERESA OF CALCUTTA
"Mother Teresa's daily life, as described by Msgr. Maasburg, can be put in two powerful words: holy daring. The mysterious language spoken between God and the saints is the firm belief that everything, absolutely everything, is a message of His love. This is why miracles take place."
—Alice von Hildebrand, Author, The Privilege of Being a Woman
"Here is a book that I could not put down! Msgr. Leo Maasburg gives us such great insight into this very human and very holy saint. He not only shows why Mother Teresa was a saint, but points the way for us also to become saints. Read this book!"
—Fr. Larry Richards, Author, Be a Man!

"With her 'ammunition' —Miraculous Medals of the Blessed Virgin Mary—that she handed out, and her determination to change the world one person at a time, Mother Teresa became an icon for charitable work in the latter part of the 20th century. Maasburg, an Austrian priest, came along for the ride as Mother Teresa's confessor and translator. His 50 stories ramble across several continents and through the decades, when this woman truly seemed to perform one miracle after another to get what she wanted and to build the Sisters of Charity into a worldwide organization. 'Mother Teresa was a missionary through and through who saw God's omnipotence and love of Jesus at work in everything and everyone,' Maasburg writes. She stood down the popes of the church and even the Sandinista rebel leaders in Nicaragua as she built a religious family that consisted of five congregations and 592 houses. This is a book for readers who want an intimate portrait of a saint in the Catholic Church."
— Publishers Weekly