read more About Us
Ignatius Press ("the Pope's publisher") and the Catholic Truth Society (publishers to the Holy See) are teaming up to bring the famed CTS booklets and display racks to North America. Since 1868 these pamphlets have been helping Catholics understand, live, and share their faith more deeply. For more information about what we're doing and why we're doing it, see Fr. Fessio's letter below.
A Message from Fr. Fessio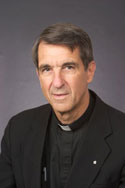 Dear Pastor,
For over 140 years the Catholic Truth Society has been helping pastors in Britain evangelize and catechize their parishioners. The CTS does this by supplying parishes with excellent booklets that answer the many questions parishioners have on their minds. Over the years I have been impressed by the quality, variety, and magisterial faithfulness of these booklets.
Now Ignatius Press is making these booklets available to you.
We've designed sturdy, attractive racks for use in the back of your church. And we've worked with CTS to come up with a list of 40 of their best-selling booklets. We've further refined that list into a "top twelve" and "top twenty-four" to make it easy for you to get started. We think these booklets will be a great help to you in the ongoing education of your parishioners. The books are written for the ordinary educated Catholic. And they have the virtue of brevity. Most are between 60 and 80 pages long in a small format.
I should say more about these booklets. They are truly outstanding. They are concise, clear, readable, and rooted in Catholic teaching and tradition. They will be a source of spiritual growth and understanding of the faith for all who read them.
Plus, many of the booklets are superb for giving to non-Catholics and former Catholics.
CTS has 200 booklets available, and is adding new titles each year. We plan to make new titles available for U.S. parishes each year, selecting those most likely to be of interest to your parishioners.
Please take the time to look over what we propose. We've worked hard to make this as easy and economical as possible for you to get started and to maintain this service to your parishioners.
In the Lord,
Joseph Fessio, SJ
Publisher, Ignatius Press
P.S. See for yourself how good these booklets are. Click on the preview link for any of the booklets (just look for the

or

in the booklet listing).