Non recedat laus

The Abbey of Regina Laudis was founded in 1947 in Bethlehem, Connecticut by Mother Benedict Duss. It is a fully enclosed monastery of contemplative women and a working farm. It is the only one of its kind in the United States.
The nuns of the abbey chant the Mass and full Divine Office each day, while expressing the traditional Benedictine commitment to manual work and scholarship through various contemporary media and professional disciplines. The mission to praise God at all times is symbolized by the lyre on the abbey's crest and by their motto, taken from the book of Judith, "Non recedat laus" (Let praise never cease!)
The community of Regina Laudis is presently made up of 37 women, representing a wide diversity of personal and professional backgrounds.
Regina Laudis means Queen of Praise.
The women live and work within the enclosure of the monastery. The enclosure, marked by physical walls and grille work in certain locations, functions like the permeable membrane of a cell wall that allows life to flow in and out.
The stable but essentially dynamic character of their monastic life is determined by the constantly interpenetrating rhythms of prayer, work and study.
They seek to extend participation in this dynamism to guests whenever possible through various forms of hospitality, in accordance with St. Benedict's admonition to receive each guest as Christ.
The Benedictine motto is ora et labora: prayer and work. Their work is twofold and includes both lectio divina, which means sacred reading or study, and manual work.
Formation at Regina Laudis follows the classical stages of Postulancy, Novitiate, First Vows, Perpetual Vows and the reception of the Consecratio Virginis, the ancient Rite of Consecration to a Life of Virginity. Each nun takes the uniquely Benedictine vows of Stability, Conversion of Life and Obedience: Stability, binding her perpetually to this particular monastic community; Conversion of Life, obliging her to choose every day to re-center herself in God through the community; and Obedience, by which she pledges fidelity to the authority of the Abbess and all those delegated to take responsibility within the "school of the Lord's service."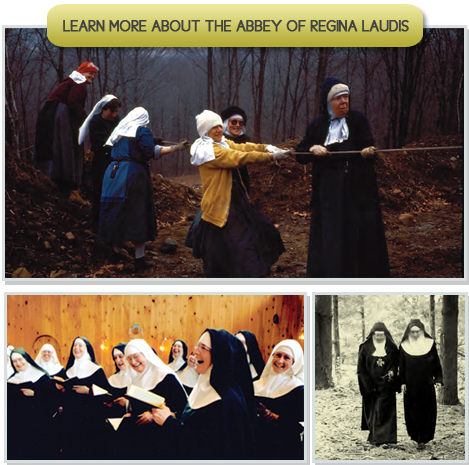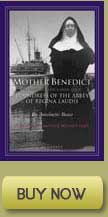 Mother Benedict
Foundress of the Abbey of Regina Laudis
This is the inspiring story of Mother Benedict Duss and the famous Benedictine monastery she founded in Bethlehem, Connecticut, the Abbey of Regina Laudis, a large flourishing community of contemplative Benedictine nuns.
This is the amazing story of Mother Benedict Duss, who was born in America but went to France and became a medical doctor in Paris, but left that profession to become a Benedictine contemplative. Through the liberating efforts from Hitler's Nazi regime by Patton's army in France, she felt an overwhelming interior call to return to America to found the first community of contemplative Benedictine nuns. At the young age of 35, with incredible faith, courage and the help of Popes, politicians, famous writers, and many others, she persevered in her call. Lavishly illustrated with photos.