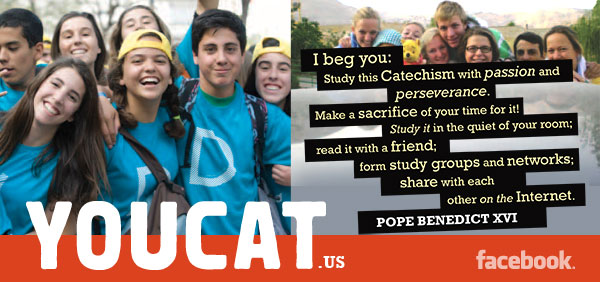 I beg you: Study this Catechism with passion and perseverance. Make a sacrafice of your time for it! Study it in the quiet of your room; read it with a friend; form study groups and networks; share with each other on the Internet.
POPE BENEDICT XVI

Want some ideas for implementing YOUCAT in your parish? Click on the titles below to download a flyer (PDF)
10 WAYS TO USE YOUCAT IN YOUTH MINISTRY
WAYS TO USE YOUCAT IN YOUR CONFIRMATION PROGRAM
YOUCAT is short for Youth Catechism of the Catholic Church, which will be distributed in multiple languages on World Youth Day 2011 in Madrid, Spain. The English-language edition is available from Ignatius Press. Developed with the help of young Catholics and written for high-school age people and young adults, YOUCAT is an accessible, contemporary expression of the Catholic Faith. The appealing graphic format includes Questions-and-Answers, highly-readable commentary, summary definitions of key terms, Bible citations and inspiring and thought-provoking quotes from Saints and others in the margins. What's more, YOUCAT is keyed to the Catechism of the Catholic Church, so people can go deeper. It explains:
What Catholics believe and why (doctrine)
How Catholics celebrate the mysteries of the faith (sacraments)
How Catholics are to live (moral life)
How they should pray (prayer and spirituality)
The questions are direct and honest, even at times tough; the answers straightforward, relevant, and compelling. YOUCAT will likely become the "go-to" place for young people to learn the truth about the Catholic faith.
Also available: Spanish version, DOCAT, Youth Prayer Book, Study Guide, and Confirmation Student Book and Leader Handbook.
Special bulk discount pricing:
25-99 copies - 25% discount off the retail price
100+ copies - 30% discount off the retail price
200+ copies - 35% discount off the retail price
750+ copies - 40% discount off the retail price
Shop online at www.ignatius.com or call 1-866-431-1531 for bulk orders
READ CARDINAL SCHÖNBORN'S INTRODUCTION TO THE PRESENTATION OF YOUCAT IN ROME, APRIL 13, 2011
For media information, contact Lisa Wheeler at Carmel Communications: lwheeler@carmelcommunications.com.